The ambassador of Ukraine invites Ukrainian nationals to clean up in Latvia for World Cleanup Day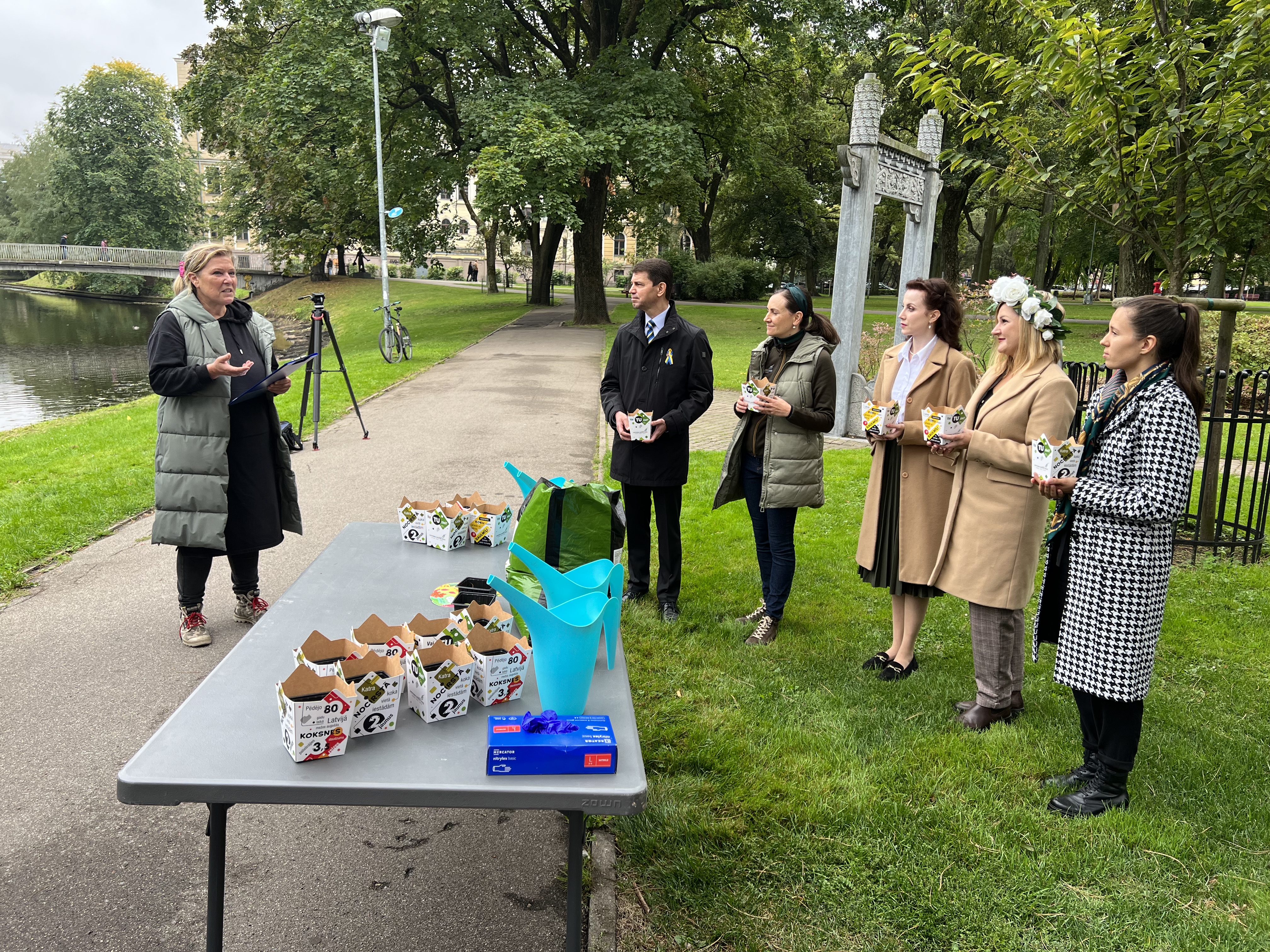 Today, on 14 September, despite the autumn chill, a World Cleanup Day announcement event was held in Kronvalds Park, during which future venerable oak trees were planted, which will sprout next year, and which were strengthened with songs by the Ukrainian singer Anastasia Vasilenko. This weekend, on 17 September, in celebration of World Cleanup Day, everyone in Latvia is invited to plant or sow their own Tree of Happiness.
Continuing the traditions, within the framework of World Cleanup Day, this year as well, Trees of Happiness parks were created in Latvia. Earlier this week, the third Trees of Happiness park was opened in Trapene, Smiltene Municipality. On World Cleanup Day, people are invited to individually sow and plant their own trees of happiness. Although usually organised in spring, the cleanup will take place on Saturday in Bišumuiža, where the territory of the Latvian Paralympic Committee will be improved, and where it is planned to create a specialised sports complex.
The ambassador of Ukraine to Latvia Olexandr Mischenko, Head of Environmental Education at JSC Latvia's State ForestsLīga Abizāre, Brand Manager of "Mežpils alus" Ieva Anita Rieksta, and Head of Big Cleanup Vita Jaunzeme participated in the event announcing World Cleanup Day and planted their future venerable trees. Within the framework of the event,Viktorija Pritulaka, Head of the Ukrainian Study Centre association and representative of the Confederation of Ukrainians living in Latvia "VICHE", emphasised that the Ukrainian people appreciate the opportunity to find temporary homes in Latvia. And by expressing their gratitude to Latvians for their support, the residents of Ukraine are also ready and willing to help and engage in activities in Latvia. Anastasia Vasilenko, a singer from Ukraine, also shared her thoughts, expressing that she really hopes that after the end of the war, Ukraine will be able to become clean and beautiful again. She also expressed her gratitude to the Latvians for their support and hopes that the locals will be able to help Latvia as well.
"It is very symbolic that these days we are talking about the liberation and cleaning of territories. Today, the whole world is helping to clean Ukraine from political chaos. Latvia has provided great and significant support to Ukrainians, both by providing humanitarian aid and by hosting the residents from our country in Latvia. Likewise, ten Latvians are currently in the Kharkiv region providing military and physical support. We wish them strength and good health! Latvia, on the other hand, has approached us with a simpler request – to help clean up the territory of the Latvian Paralympic Committee in Bišumuiža. Therefore, I invite everyone to thank Latvia for the support it has given to the people of Ukraine, who have come here because of the war, in participating in the cleanup, because we are united in sport, too. Let's support each other!" encourages the ambassador of Ukraine to Latvia, Olexandr Mischenko.
Head of Environmental Education at Latvia's State Forests, Līga Abizāre adds: "By taking care of forests every day, Latvia's State Forests is making Latvia and Europe stronger. Both in terms of economic investment and promoting the development of green thinking. It is also a part of the democratic process, as it gives people the opportunity to live in a clean environment and solve environmental issues in an open manner. Today we planted oak trees, which is very satisfying because in folklore the oak tree is a symbol of strength. It is no coincidence that an oak tree grows for hundreds of years, so I hope that these oaks will also bring joy and strength to our children and grandchildren.
"Sustainability is a hot topic right now, not only in Latvia, but globally. It is also an important part of our company's strategy, as its principles are incorporated into the production process, employee training, and valuable partnerships. We are happy that "Mežpils alus" and the Big Cleanup have been friends for three years. This, of course, also puts a lot of responsibility on us, because we know that our products do not always end up in waste bins or, at best, in the deposit system. Thanks to the Big Cleanup, we can focus on the circular economy and together promote waste ending up in the right place, not in nature," emphasises Brand Manager of "Mežpils alus" Ieva Anita Rieksta.  
Head of the Big Cleanup and organiser of World Cleanup Day in Latvia, Vita Jaunzeme says: "This year, within the framework of World Cleanup Day, a lot of good work will be done! We have opened the third Trees of Happiness park in Latvia, and we will create two more. Also, unlike other years, we will participate in the cleanup, where together with the Latvian Paralympic Committee we will clean and improve the territory of Bišumuiža in order to promote the possibility of creating the planned sports complex sooner. Although World Cleanup Day is yet to come, I would like to express my sincere thanks to the organisations and local governments that are helping to make our dear Latvia greener and cleaner!"
About World Cleanup Day:
The planting of Trees of Happiness as a form of Latvia's participation in World Cleanup Day was chosen because trees play an important role in maintaining the planet's climate balance and ensuring healthy living conditions for people, and Latvia with its tradition of venerable trees sets an example that not only can a tree be planted, but caring for it can become a symbol of sustainability and good living for individuals, families and society as a whole. Share your green works at talkas@talkas.lv or on social media using the hashtags: #Lielatalka #WorldCleanupDay2022 #Laimeskoki.
Trees of Happiness map, mark your participation here: https://talkas.lv/laimes-koki
See you at World Cleanup Day on 17 September! Let's celebrate and make Latvia green!