The third Trees of Happiness park in Latvia opens in Trapene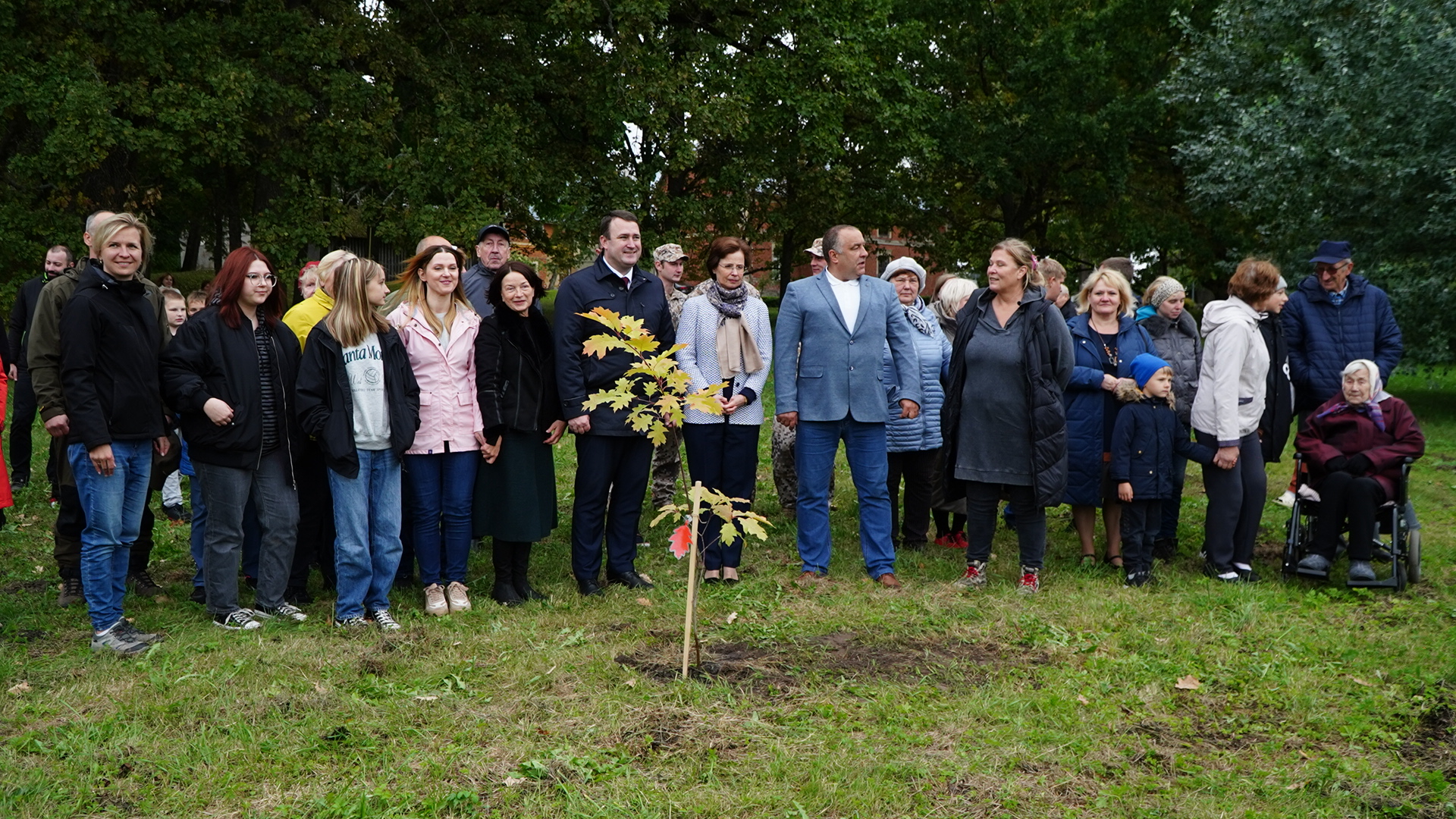 Yesterday, 12 September, as part of World Cleanup day, the third Trees of Happiness park in Latvia was opened in Trapene. The opening ceremony of the park was attended by the First Lady of Latvia Mrs Andra Levite, who planted the first tree – a red oak from the Latvia's State Forests tree nursery. Jānis Šepters, Head of Trapene Rural Territory Administration, Edgars Avotiņš, Chairman of Smiltene Municipality Council, Laura Vāciete, the initiator of the Trees of Happiness Park in Trapene, and Vita Jaunzeme, Head of Big Cleanup, participated in the opening of the Trapene Trees of Happiness park and addressed the audience.
In celebration of World Cleanup Day, in Latvia, for the fifth consecutive year, the focus is on the sustainability and restoration of the balance of the Latvian and global ecosystem. For the third consecutive year, on World Cleanup Day, 17 September, people are invited to participate in the Trees of Happiness campaign to sow or plant their own tree of happiness. Municipalities are also invited to create Trees of Happiness parks. On 12 September, celebrating World Cleanup Day, the third Trees of Happiness park in Latvia was opened in Trapene. In 2020, one was created in Valdemārpils, but last year in Jelgava. Due to the great interest of municipalities, as part of the World Cleanup Day campaign, this year Trees of Happiness parks will also be opened in Viļāni and Krāslava, Rēzekne Municipality. 
"This year, the organisers of the Big Cleanup invite people to plant fruit trees: apples, plums, pears. I can assure you that paediatricians, paediatric endocrinologists and paediatric orthopaedists will be happy and especially grateful for this year's idea. In recent years, the consequences of unhealthy diets for children and young people have become an acute problem. Diseases that only affected the elderly a few years ago, are increasingly being found by paediatricians in children and young people. But the gift of an apple tree – the apple – is genius. It improves the health of us all, has an excellent natural 'wrapper', and the apple is delicious in a hundred and one variations. A healthy younger generation is the basis for a viable country," emphasises the First Lady of Latvia, Mrs Andra Levite.  
Laura Vāciete, the initiator of the Trapene Trees of Happiness park idea, says: "We are very happy that, this year, we were given the opportunity to create the Trees of Happiness park in Trapene. It is a great honour for the residents of the rural territory that, on this day, the First Lady of Latvia had the opportunity to join and solemnly open this new park, which will unite the residents of our rural territory over time. Happiness is not singular – it is being together with family, friends, and your community. Gathering here to plant Trees of Happiness, will strengthen the bond of the residents and be a gift to future generations who live in Trapene after us."
Vita Jaunzeme, Head of the Big Cleanup, encourages: "Due to the fact that every year the interest of municipalities in creating Trees of Happiness parks continues to grow, I want to believe that in time we will indeed have at least one Trees of Happiness park in every region of Latvia, where people will have the opportunity to plant their own tree of happiness and strength . However, everyone still has time to participate in World Cleanup Day and on 17 September, sow or plant their own Tree of Happiness – individually, together with family or friends – to contribute to the creation of a greener Latvia!"
The aim of the campaign Trees of Happiness is:
To create a sense of responsibility for the preservation of nature in children and young people – to create a deeper understanding of natural processes by taking care of growing a particular tree;
To strengthen the international image of Latvia as a green, sustainable and environmentally responsible country;
To promote the more active involvement of society in solving environmental issues on a local and global scale.
Anyone can mark their Tree of Happiness planting location on the Trees of Happiness map: https://talkas.lv/laimes-koki/. If you plan to plant trees in your private territory, no coordination is required. If you want to plant trees in a municipality or any public area, you need to contact the coordinator of the specific municipality. Contact details of the coordinators are available here: https://talkas.lv/kontakti/
Share your green works at talkas@talkas.lv or on social media using the hashtags: #Lielatalka #WorldCleanupDay #Laimeskoki.
Let's celebrate and make Latvia green!