The second Happiness Tree Park in Latvia and in the world has been opened in Jelgava!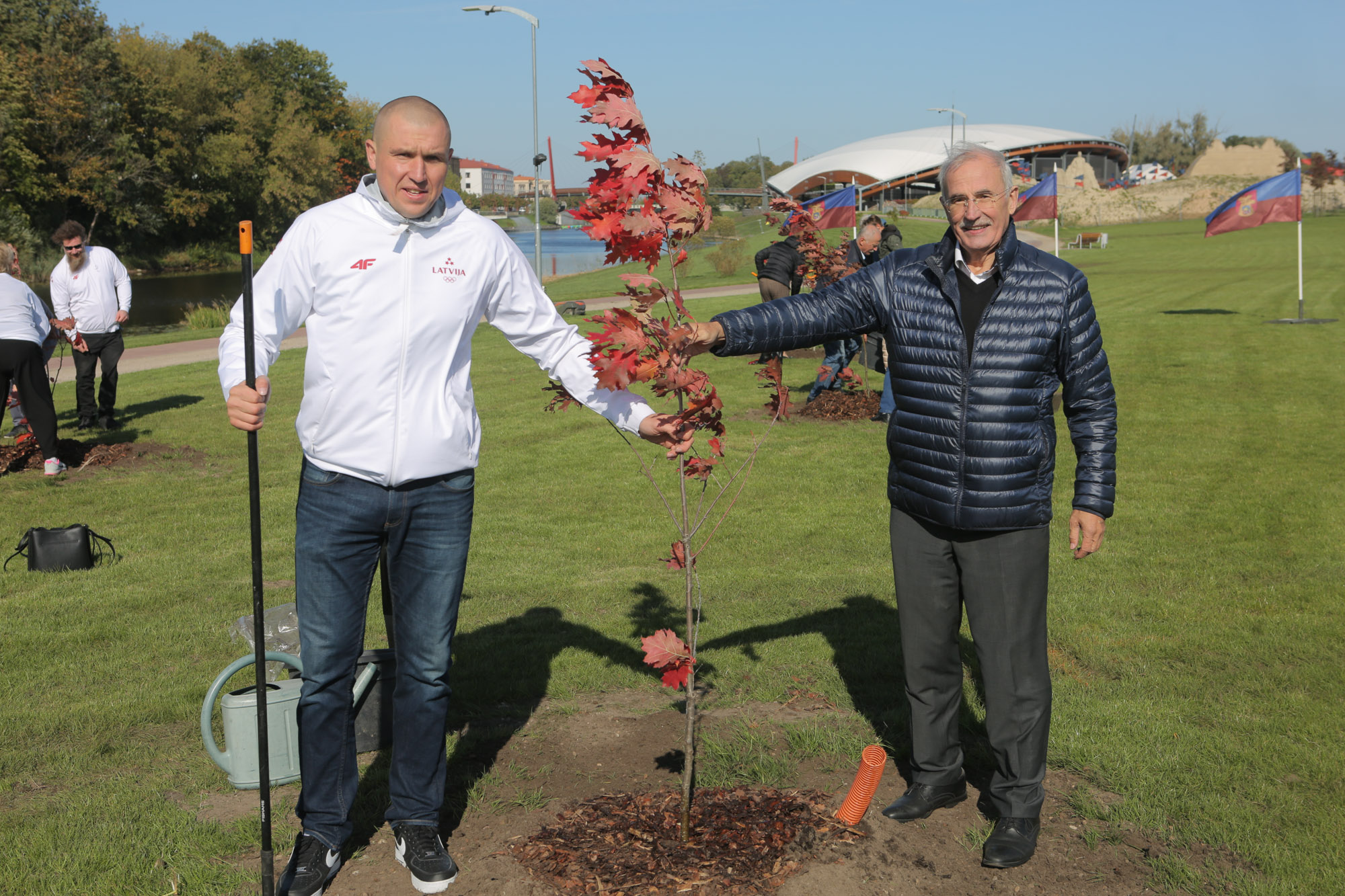 Today, in a cordial atmosphere in Jelgava, on Pasta Island, the central event of the World Cleanup Day took place – the opening of the second Happiness Tree Park in Latvia and in the world. Twelve trees were planted during the event by the Jelgava city management, Vita Jaunzeme, leader of the Lielā Talka (Big Cleanup), Raimonds Vējonis, former President of Latvia, Gints Kaminskis, Chairman of the Union of Local Governments of Latvia, Edgars Krūmiņš, Champion of the Tokyo Olympic Games and Tokyo Paralympic Games participant Edgars Bergs, school and university students, as well as representatives of other circles. On behalf of President Egils Levits, the oak park was established by the representatives of the Latvian Scout and Guide Central Organisation.
The World Cleanup, which has developed from the traditions of cleaning of the Baltic States for the fourth autumn in a row, unites the whole world under one goal – to make our planet cleaner, louder and healthier both for ourselves and future generations. In Latvia, we have taken a step forward, for the fourth year in a row we have two clean-ups – in the Big Cleanup in the spring we improve our living space and collect waste, while in the autumn – we plant Trees of Happiness. We hope that the whole world will soon be ready to go a step further and think not only about collecting waste, but also about planting trees, the "lungs" of our planet.
Andris Rāviņš, Chairman of Jelgava City Council: "It's a pleasure that today green-minded people have gathered in Jelgava and together we have started the establishment of the Happiness Tree Park on Pasta Island. May the planted trees be a symbol of a green, sustainable future for our planet! We also work purposefully in Jelgava, confirming the move towards an environmentally friendly and green city. In more than ten years, we have reduced CO2 emissions by 28 percent through various energy efficiency measures. With the introduction of LED luminaires, public lighting has also become more environmentally friendly. Already in October, we will use four electric buses to transport passengers on city routes. We go one step further and Jelgava bus fleet continues research on the use of green energy – hydrogen – for the city's public transport."
Vita Jaunzeme, organiser of the World Cleanup in Latvia, leader of the Lilā Talka (Big Cleanup): "If we think about our actions every day, do not throw paper on the ground, pick up the waste left by others, plant a tree, tidy up and green our surroundings – only then will we be able to say that our conscience towards the land on which we live is pure. Every autumn, we plant trees in Latvia as part of the World Cleanup. Moreover, they are not ordinary trees, they are Trees of Happiness. By planting such a tree, we enter into a "pact" with Mother Nature. For our part, we affirm that we will not cut this tree, but will care for and protect it just like our child. On the other hand, the tree we care for will grow and provide oxygen and shade for all of us. I call on every inhabitant of Latvia, whether it is on the day of the clean-up or at any other time, to plant their "children" and take care that they will later take care of us for all future generations."
Gints Kaminskis, Chairman of the Latvian Association of Local and Regional Governments: "Our task is to ensure that everyone has the opportunity to live in an orderly and clean environment. It is also our duty to future generations to create, maintain a neat environment and to pass this duty on to our descendants. When visiting Latvian municipalities, I make sure every time that they take care of their territories on a daily basis, and that it would be pleasant for both locals and guests to stay in such an environment. Thank you also to the city of Jelgava for allocating such an important city place to the Alley of Happiness Trees!"
Although the second Happiness Tree Park was opened in Latvia this year, we urge you not to stop there. We ask all municipalities to find an opportunity to establish such parks in their territory, so that people have a place to plant their Happiness Tree. The Big Cleanup and Happiness Trees campaigns are not one-day projects. It is our contribution so that future generations can live in a better, greener and cleaner Latvia. "The Happiness Tree Park is a place for everyone, it is a place for happiness and peace, a place for ideas and love for a green and happy future of Latvia. In my opinion, it is important to think about your residents, opportunities to unite them and shape the history of your municipality," Vita Jaunzeme emphasised.
You can watch the recording of the solemn opening ceremony of the World Cleanup here, and the traditional live broadcast of the closing discussion of the World Cleanup, which will be attended by organisers, partners and public figures advocating for a green and healthy lifestyle, at 18.00 on skaties.lv and 3Play.lv platforms.
Write about your green works at info@onecom-latvia.com, or share them on social networks using hashtags: #Lielatalka #WorldCleanupDay #Laimeskoki.
Follow also the Big Cleanup on Facebook and Instagram.
May the World Cleanup succeed! All together and each individually!