Big Cleanup and MEPRD urge to clean up Latvia together on April 24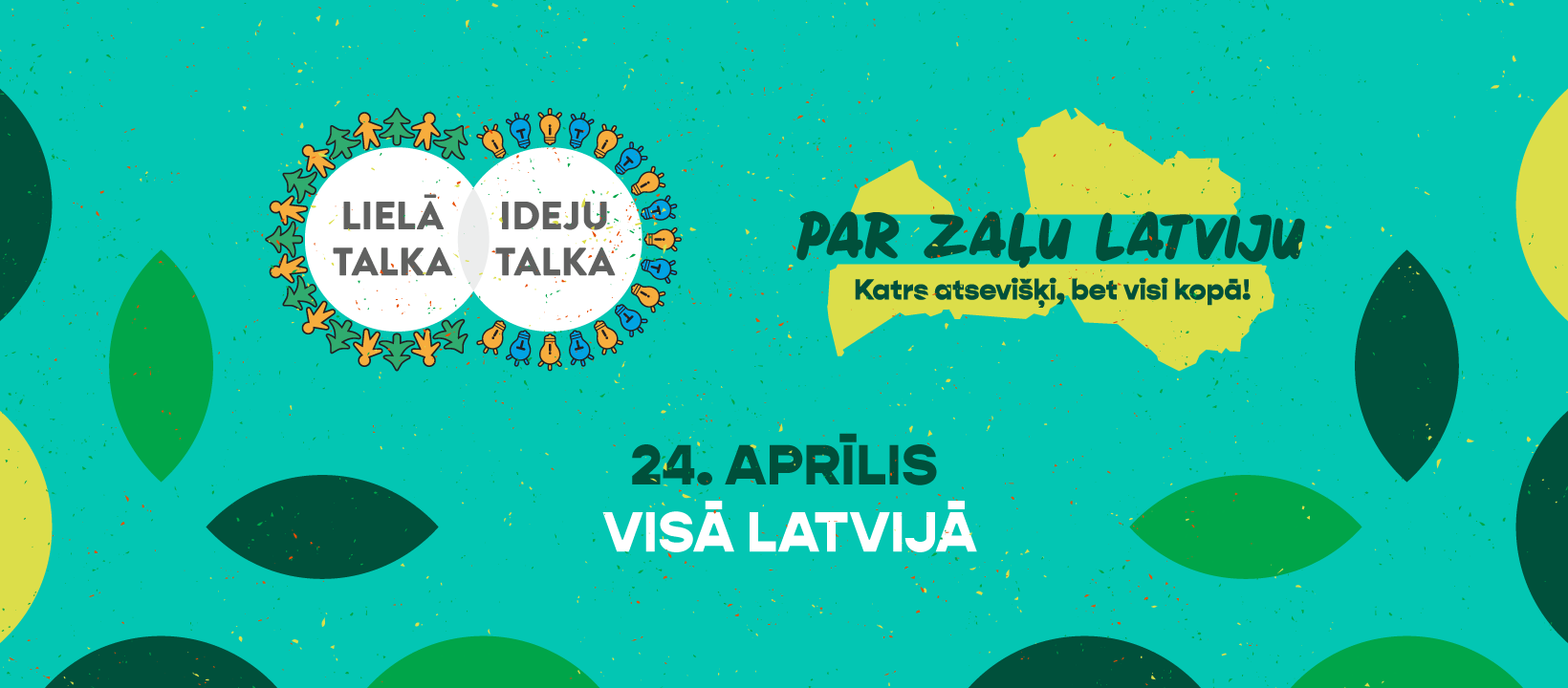 The Big Cleanup and the Ministry of Environmental Protection and Regional Development (MEPRD) invites supporters to take an active part in the already traditional spring clean-up and All-Latvian environment clean-up, which will take place on April 24 this year. The Ministry also reminds of the need to comply with the epidemiological safety regulations established in the country and calls to go to work in accordance with the restrictions set at the time. To take care of the environment while protecting oneself, the organisers invite to clean up individually – "solo" clean-ups, in pairs – "duo" clean-ups or within one household – "family clean-ups".
Moving towards the aimed status of the greenest country in the world, even in these rough conditions, it is important to protect not only one's health, but also the environment and nature on a daily basis. Therefore, this year, as in all previous years, the Big Cleanup will take place, with a greater emphasis on individual help and help within one household. This year's Big Cleanup motto "For green Latvia – each separately, but all together!" points out that, regardless of the obstacles, each of us can lend a hand on the Day of the Big Cleanup or at any other time and make Latvia the greenest country in the world.
Minister of Environmental Protection and Regional Development Artūrs Toms Plešs: "Every spring we meet at the Big Cleanup. It is already an annual tradition that unites the whole of Latvia. As a year ago, this year we need to take care not only of cleaning up the environment, but also of each other, taking into account the safety measures to reduce the spread of Covid-19. The time of restrictions gives us an opportunity to re-evaluate our natural values and recreation in nature, especially enjoying the tidy environment and magnificent nature. Likewise, each newly planted tree is a way for us not only to make our surroundings more pleasant, but also to be one step closer to achieving the climate neutrality, which we are committed to with other European Union countries in 2050. I call for participation in the clean-up and to lend a hand so that the environment around us becomes even cleaner and Latvia, with responsible action not only on the day of the clean-up, but also on a daily basis, is an even greener country."
Vita Jaunzeme, leader of the Lielā Talka movement: "I am happy and infinitely proud that even in such difficult circumstances, we, as a society and as a whole country, are able to find both inner strength and safe ways to continue cleaning up and taking care of our nature. For 13 years in a row, we've been cleaning up and performing cleaning and improvement works every spring. We cleaned up together last year, let's do it this year and, no doubt, we'll do it next year! Each individually, but all together, we will be able to do more by cleaning-up "solo" or within one household. In my opinion, we as a society must be particularly cohesive now, not only in what we do and what we want to achieve, but also in our attitude – we must remain positive and open. Undoubtedly, this is a hard time, and only with positive thinking, working together and having a common vision of how we want to see our country in the future, we will be able to overcome all difficulties."
Latvia has already shown that it is able to agree on a common goal to a much greater extent than other countries in the world. At the beginning of 2021, the organisers of the Big Cleanup received an award from the World Cleanup Movement "Let`s do it!" on the fact that within the framework of the 2020 World Cleanup, Latvia has been recognised as the country in which the highest percentage of volunteers per capita at World Cleanup Day 2020 has participated in improvement, cleaning and tree planting activities ("The highest % of volunteers per capita at World Cleanup Day 2020").
On April 24 of this year, the annual spring Big Cleanup will take place in Latvia. Supporters are invited to observe all the precautionary requirements set in the country, to be conscientious and to get involved in the cleaning and improvement of Latvia. More information about the 2021 Cleanup, recommendations for supporters and opportunities to get involved can be found on the Big Cleanup website www.talkas.lv.
About Big Cleanup: The Big Cleanup is a non-governmental movement in Latvia, which since 2008 not only organises clean-ups all over the country every year, but also implements various projects for educating the public on environmental protection issues. The patron of the Big Cleanup is the President, which ranks Latvia among the first countries in the world where there is such a high level of state support for environmental activities. In August 2019, the patronage was taken over by President Egils Levits. Write to us about your green activities to talkas@talkas.lv and projects@talkas.lv or share your experience on social networks using hashtags: # LielaTalka2021, #Espiederunakotnei, #sakopsavusetu
Additional information:
Nikola Matjušenko
Big Cleanup Public Relations Consultant
Mob.26431149
E-mail: nikola.matjusenko@onecom-latvia.com