Next year, the Big Cleanup (Lielā Talka) will take place on April 24.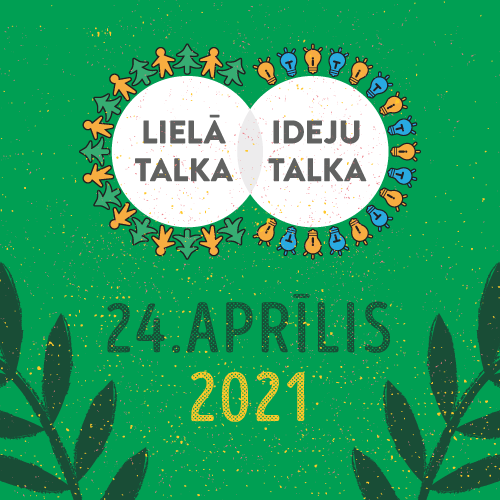 In order to take care of Latvia's nature, its cleanliness and sustainability, next year, for the fourteenth time in a row, the Latvian cleanup campaign "the Big Cleanup" will take place. In the spring, despite the spread and limitations of the Covid-19 pandemic, people were invited to participate in solo, duo and family cleanups, thus making 955 cleanup sites throughout Latvia cleaner and more beautiful. Next year, the Big Cleanup will take place, as usual, on the last Saturday of April, on the 24th, with the motto "Clean Latvia for future generations".
From the very beginning, the aim of the Big Cleanup has been to draw the attention of the Latvian society and invite people to participate in cleaning up, rehabilitating and improving the environment in order to create unity, positivism and joy of this accomplishment. In the second decade of its existence, since 2019, the Big Cleanup has been urging people to fight not only with the consequences of pollution, but also with its causes, encouraging people to think more and act in time in order to experience clean Latvia and its beautiful nature not only for us but also for future generations.
In 2021, as last year, the organizers will invite people to participate in the cleanup by applying for their own cleanup site and carrying out cleaning and improvement works. Along with the activities of the Big Cleanup, for the third year in a row, residents are invited to share ideas on what would help Latvia become more sustainable by participating in the creative campaign "the Idea Cleanup" (Ideju Talka).
Vita Jaunzeme, Head of the Big Cleanup, says: "It is a great satisfaction that this year was no exception – the Big Cleanup took place in the spring and the World Cleanup in the autumn. It does not matter whether we participated in the cleanup alone, together with friends, acquaintances or family this year – it is a valuable contribution to the future of Latvia. We will continue to do so next year, as working to raise public awareness of environmental issues is the way to build and develop a sustainable country. Humans and nature must interact, and we are responsible for how harmonious this interaction is."
In 2008, the Big Cleanup took place for the first time in Latvia. During these years, more than a million people have participated in the Big Cleanup, performing cleaning and improvement works both in Latvia and involving representatives of our diasporas. Within ten years, after actively participating in the cleanup and improvement work in Latvia, the amount of waste has dramatically decreased compared to 2008.  Additional information: www.talkas.lv.
We will inform you about the specification of the Big Cleanup, according to the situation in the country.
See you on April 24 at all cleanup sites in Latvia!
Additional information:
Jana Kralliša
Public Relations Consultant
at the Big Cleanup
Tel.: 26462844
E-mail: jana.krallisa@onecom-latvia.com