Participants from the international project "Get new Habits" are inviting to join them!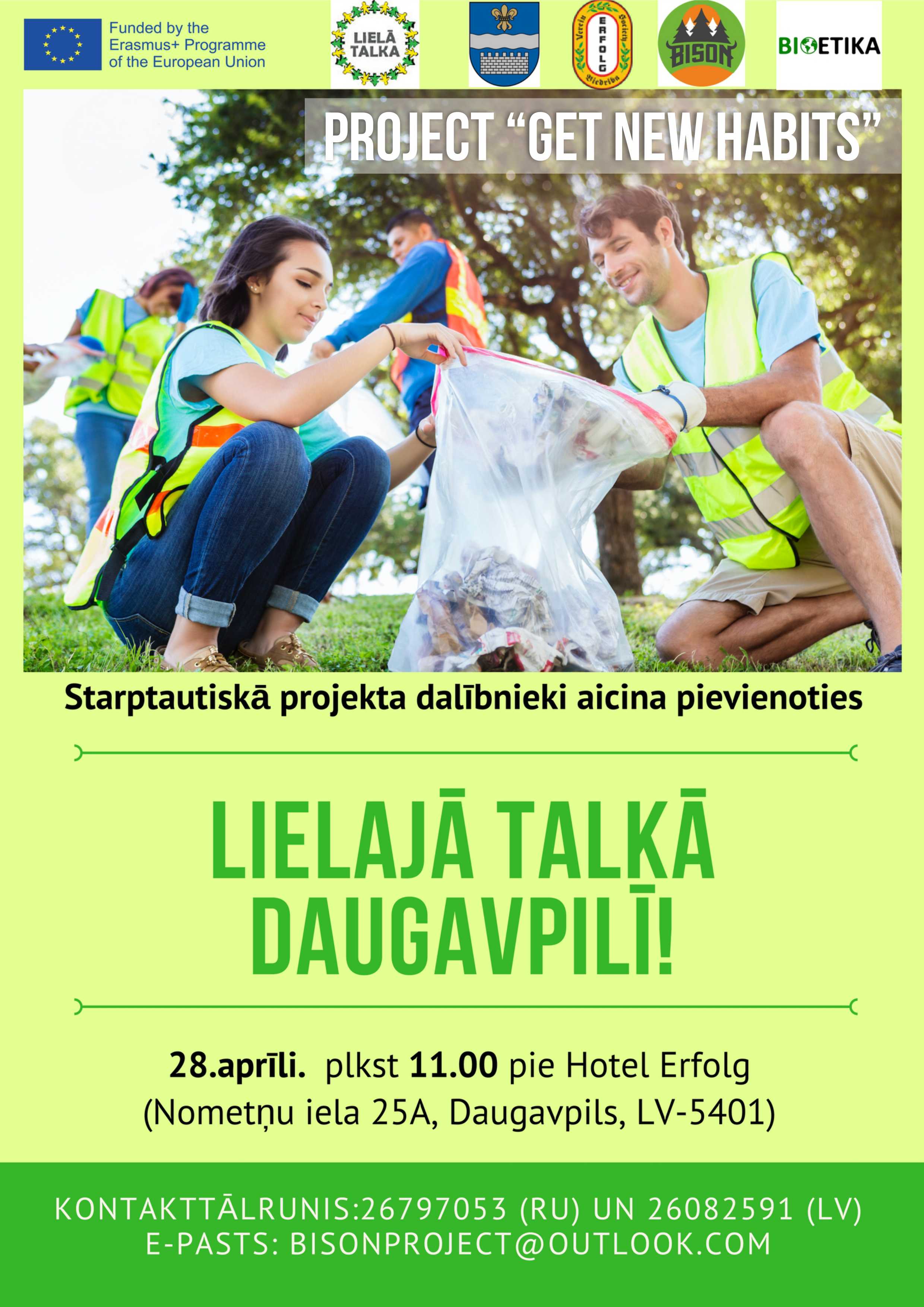 We are inviting you to join us in the Big Clean up in Daugavpils!
The organisation "Bison" in cooperation with the society "Erfolg" and organisation "Bioetika" under the international Erasmus + project "Get new habits!". We are inviting you to join us on April 28th for the Big Clean Up – meeting place at 11:00 a.m in the front of the Hotel Erfolg (Nometņu street 25A, Daugavpils).
Together we are going to clean the territory around the coast of the Daugava. Through the Bruģu street along the Daugava we will head towards the center. We recommend to dress in clothes that you don't worry that can get dirty and shoes that don't get wet. It is planned to clean up until 15:00. We will offer bags and gloves.
There would be an opportunity to participate in different kind of games, which are related to ecology. Would be a chance to meet and talk to people from different countries:Latvia, France,Serbia and Georgia.We are inviting you to join the flashmob "Recycling, get new habits!"as well, which will be held by the project participants on April 29th in Daugavpils,Rīgas street at 11:30-13:30.
The aim of the project: environment protection, recycling,trash sorting.
Under the environment protection and ecology topic participants would find places in the city,where could be placed trash sorting containers. Project's participants already have an experience in environment protection.
In addition to the project there would be prepared various events related to environment protection. Would be held a meeting in  Daugavpils Council about the trash sorting in Daugavpils.In the park will be placed handmade birdhouses. The participants will take part in the Big Clean up and will organizate the flashmob in the city center in order to inform people about the importance of recycling and protection of environment.
Feel free to join us! (Registration in advance)
Contacts: 26797053 (ENG, RU) un 26082591 (LV)
E-mail: bisonproject@outlook.com