ORGANIZERS AND SUPPORTERS ARE INVITING EVERYONE TO TAKE PART IN THE BIG CLEAN-UP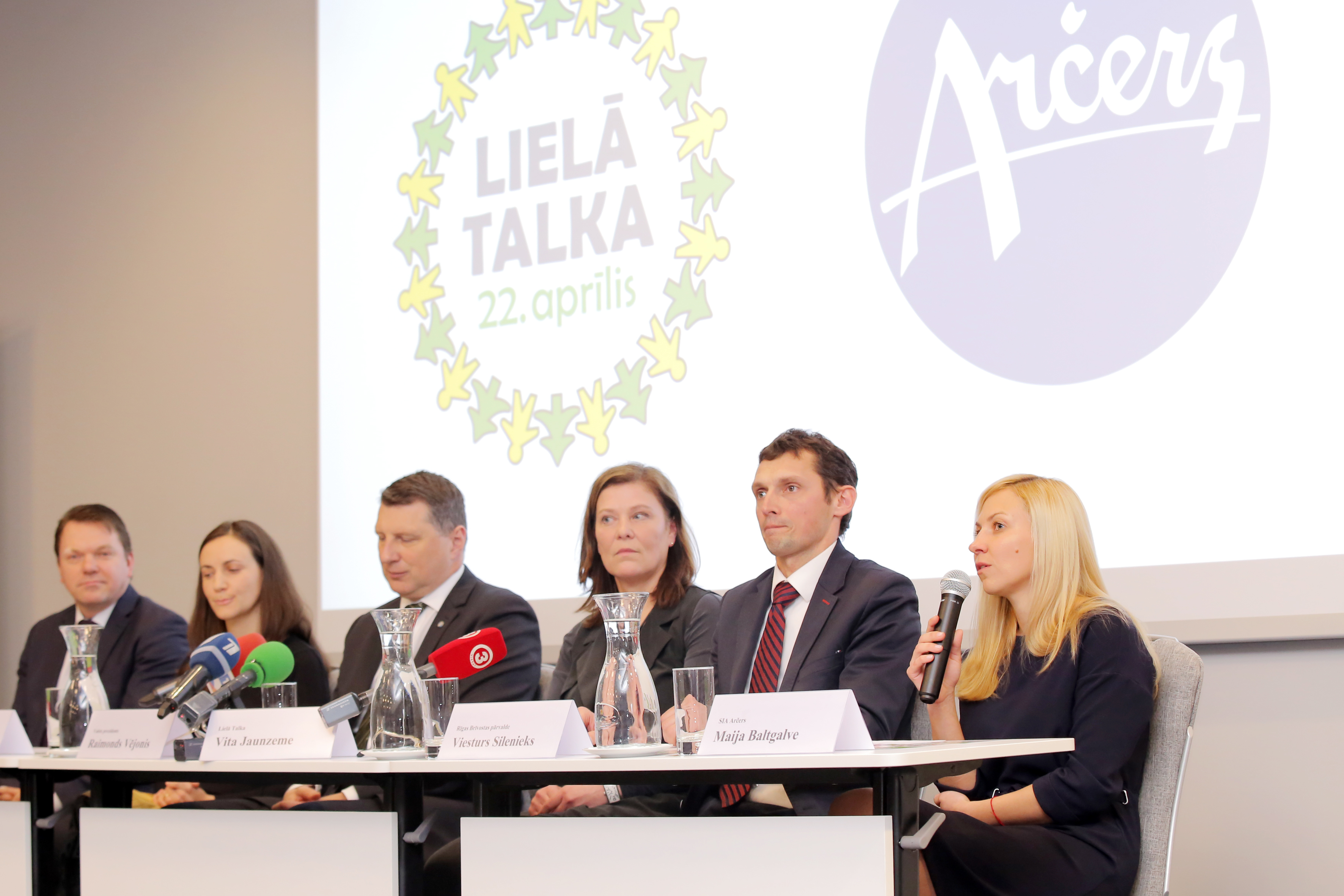 In the presence of patron of the Big Clean-up – State President Raimonds Vējonis, organizers and supporters of the Big Clean-up a map was presented, where everyone can register places to do the cleaning on April 22 – the Big Clean-up day. During the event organizers and supporters of the clean-up pointed out the nationwide scale of the project, stressing the fact that cleaning-up became a tradition for our country.
State President Raimonds Vējonis who is a participant of clean-up activities from the very beginning pointed out that the Big Clean-up is one of the ways how to change people's mentality and activity. "The Clean-up demonstrates that good things cannot be done immediately on the first try, it needs time for us to change ourselves, our habits, mentality and activities. The Clean-up is an illustrative example of us getting better year after year, if it is being done non-stop," said Raimonds Vējonis in his opening speech for the Clean-up month.
"We are going to be the greenest country in the world if we are going to accept it and trust it. When we are going to reach this decision and start to move in this direction, we are going to be the greenest. We don't have to rely on supervisors from the outside, who will count, number and assess us. We don't need Yale University to be green. We will be green if we will reach this decision for ourselves. The most important thing is how we feel about it. With digitalisation of the state, healthcare tourism, decreasing of large-scale agriculture, national healthcare and spiritual regeneration," the director of the Big Clean-up Vita Jaunzeme said.
Representative of SC "Latvijas valsts meži" Līga Abizāre stated that the company is taking part in the Big Clean-up from the very first year. 309 forest cleaning events are being planned in April and May, as well as trash collection, tree planting, education of pupil groups about the meaning of being green. "Cūkmens will also wake up from winter sleep; He is visiting school for more than 10 years, supported by the Latvian Environmental Protection Fund. We have counted that he directly informed almost 100 thousand people about forest cleaning problems," Abizāre said.
Member of the board of the Big Clean-up sponsor LLC "Arčers" Maija Baltgalve said that "Arčers" company is celebrating its 25th anniversary this year. It was founded, working and developing in Latvia, so we believe that our duty is to give and share. We have similar goals and attitude toward the environment with initiators of the Big Clean-up. We have also grown from the small construction company and group of enthusiasts to professional team, which is not only protecting the achievements, but also care about creating the added value. This movement have already become a matter of honour for big part of society, so we invite other national capital companies to join the Big Clean-up supporters team to become the example and ask others to join."
Representative of Freeport of Riga Authority Viesturs Silenieks: "It is going to be the 8th year of active participation of management of Freeport of Riga Authority in organization of the Big Clean-up. We are happy this initiative in course of time became a national scale movement with ambitious goals and results significant for the whole society. This year management of Freeport of Riga Authority in cooperation with inhabitants of Riga region is planning to work upon the site improvements on territories surrounding the port; we are planning to plant trees to create so called green fence separating the inhabited area from port territories, to create together with pupils and ornithologists new nesting places for birds nesting in nature reserves of Freeport of Riga Authority – goldeneyes, goosanders, Common shelducks, Tawny owls, etc."
Chairman of the board of SC "Latvijas Dzelzceļš" Edvīns Bērziņš notified that employees of the company are going to start the clean-up traditionally a day before the Big Clean-up – on April 21 and will clean the gateways of railroads all over Latvia. Usually approximately 2000 employees of Latvijas Dzelzceļš are taking part in the clean-up. "Five years ago we were carrying hundreds of bags from the station embankment in the very heart of Riga, but we are moving away from our borders every year. We believe Clean-up have overgrown its initial purposes as long as we a e not only cleaning, but also greening, planting trees and flowers" Bērziņš stated.
"Freeport of Riga Authority", construction company "Arčers" and "Latvia's State Forests", as well as the Ministry of Environmental Protection and Regional Development, the Administration of Latvian Environmental Protection Fund, Latvian Association of Waste Management Companies, "DHL", "Clean R" and "Latvian Railroad" invites you to take part in "The Big Clean-up 2017". Information support is provided by LNT, TV3, First Baltic Channel, Rīga TV24, TVnet, Latvian radio 2, 1188 and national information agency LETA. We also want to say thanks to "Valodu koks" translation agency.